Sevenars 2022 Schubertiades in honor of the 225th anniversary of Schubert's birth (1797)
The music portion of these Schubertiades (after a five-minute introduction to Sevenars), will include excerpts of live concerts at Sevenars from several decades, including the following original works and transcriptions of Schubert :
MUSIC
Soirées de Vienne No. 6 (Schubert-Liszt)
Rorianne Schrade
27 Dances (Ländler, Deutsche Tänze, Ecossaises, etc.)
Robert Schrade
Marche Militaire No. 1
Robelyn Schrade-James and David James
Rondo in A Major D. 951
Randolph Schrade and Robelyn Schrade-James
Wanderer Fantasy, D. 760
Rorianne Schrade
Happy 225th to Schubert all year long! Tell your friends, bring a drink, and join our Schubertiade!
CALENDAR
Scroll down to see the date for your town!
April 30
For residents of Buckland - Zoom at 6:30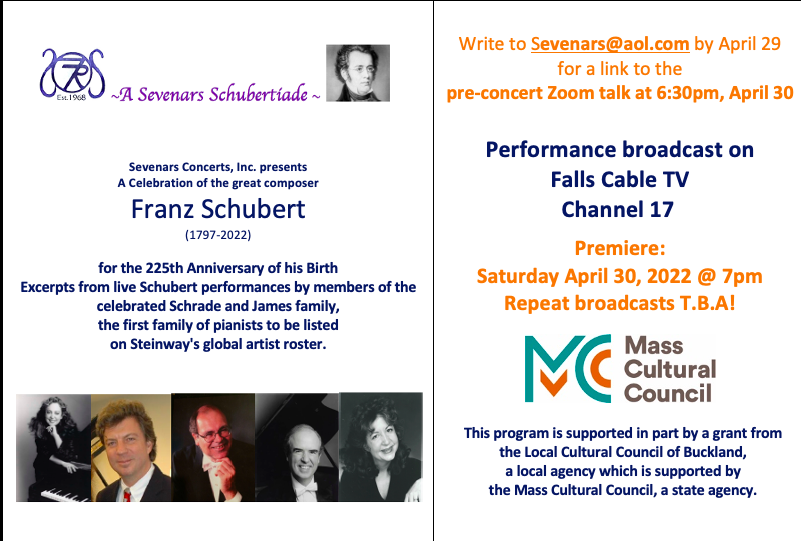 ______________________________________________________________________________________________________________
May 2
For residents of Middleborough - Zoom at 6:30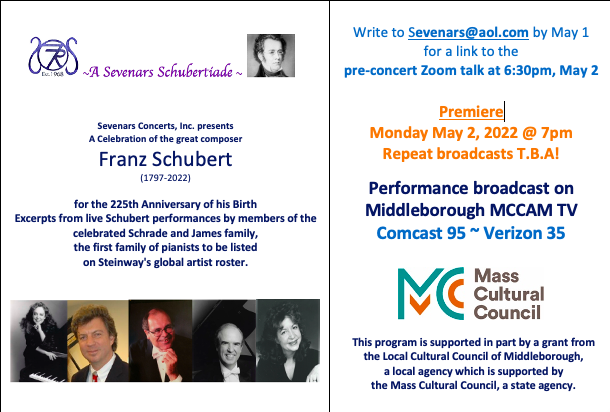 ______________________________________________________________________________________________________________
May 7
For residents of West Springfield - Zoom at 6:30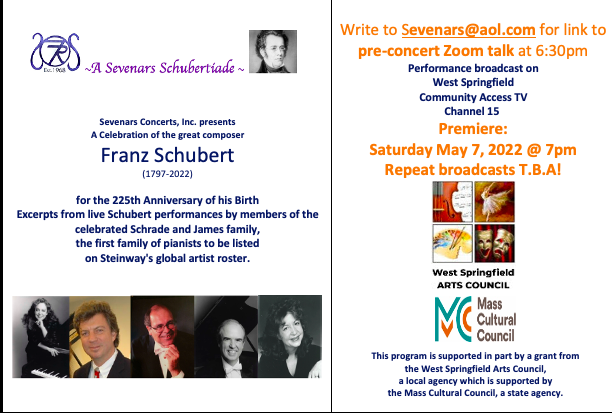 ______________________________________________________________________________________________________________
June 8
For residents of Billerica- Zoom at 6:30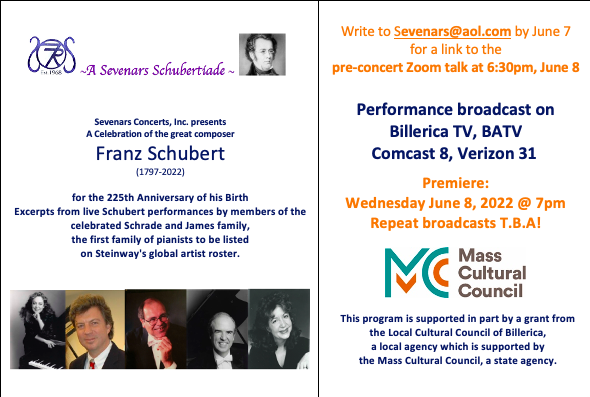 ______________________________________________________________________________________________________________
For residents of Lee - Zoom at 6:30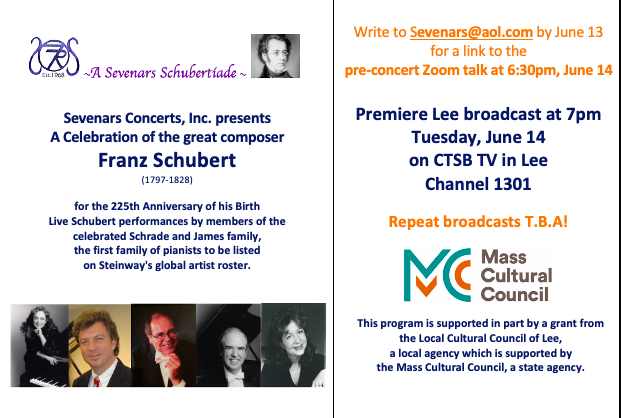 ____________________________________________________________
June 15th
All-Zoom (no -TV) Schubertiadefor residents of Charlemont-Hawley, Chesterfield, Huntington, Middlefield, Montgomery,
Russell, Worthington, and friends without cable access channels! Zoom at 7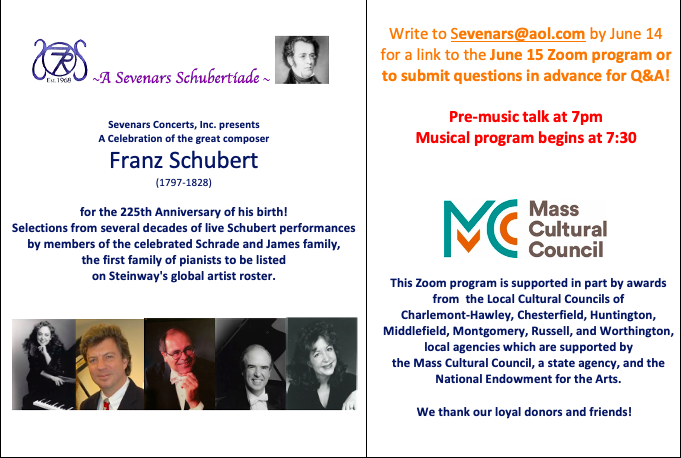 ________________________________________________
June 21st
For residents of Everett - Zoom at 6:30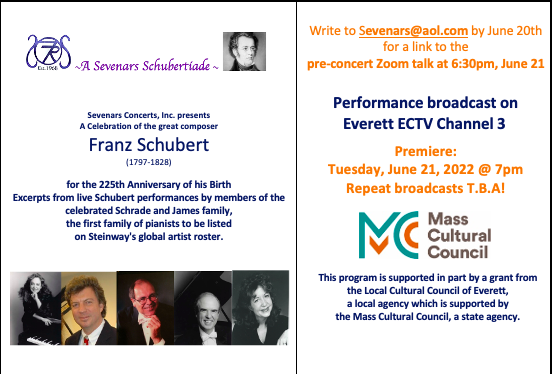 ______________________________________________________________________________________________________________
June 22nd
For residents of Revere - Zoom at 3:30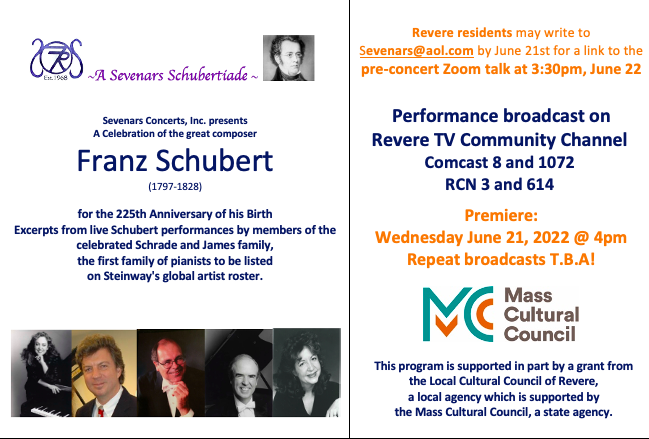 ______________________________________________________________________________________________________________
June 27th
For residents of Gardner -Monday June 27th at 8pm, Zoom at 7:30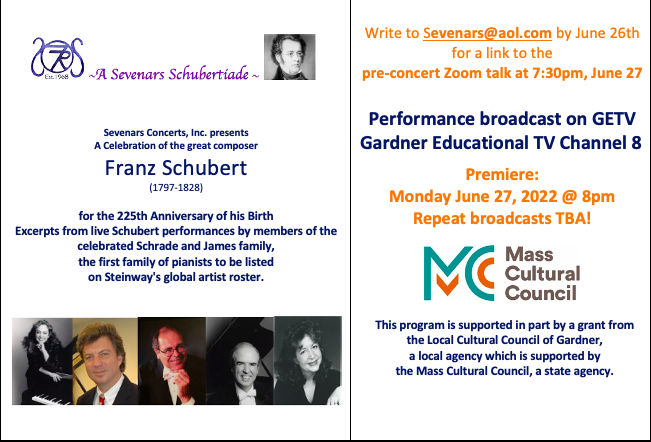 ______________________________________________________________________________________________
June 30th
For residents of Agawam - Zoom at 6:30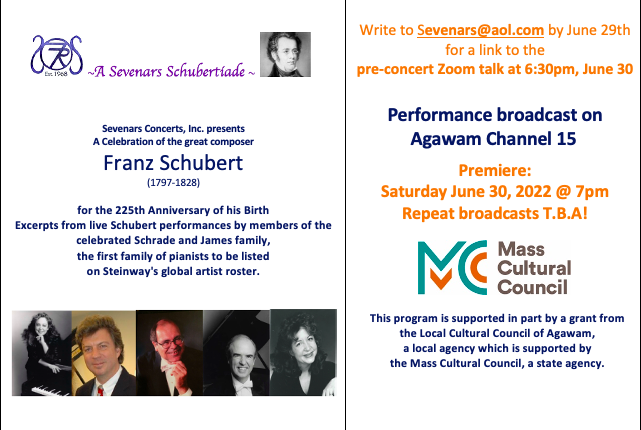 _______________________________________________
September 23rd
Zoom at 3pm - Public Access Airing at 4pm for residents of Wilbraham, Channel 191